The Nation of Brunei is located on the northern coast of Borneo, Asia's largest island. Borneo is divided among three countries: Malaysia and Brunei in the north, and Indonesia in the south. Brunei has a coast along the South China Sea to the north, and is landwise completely surrounded by Malaysia. It is even separated into two parts by a wedge formed by the Malaysian district Limbang.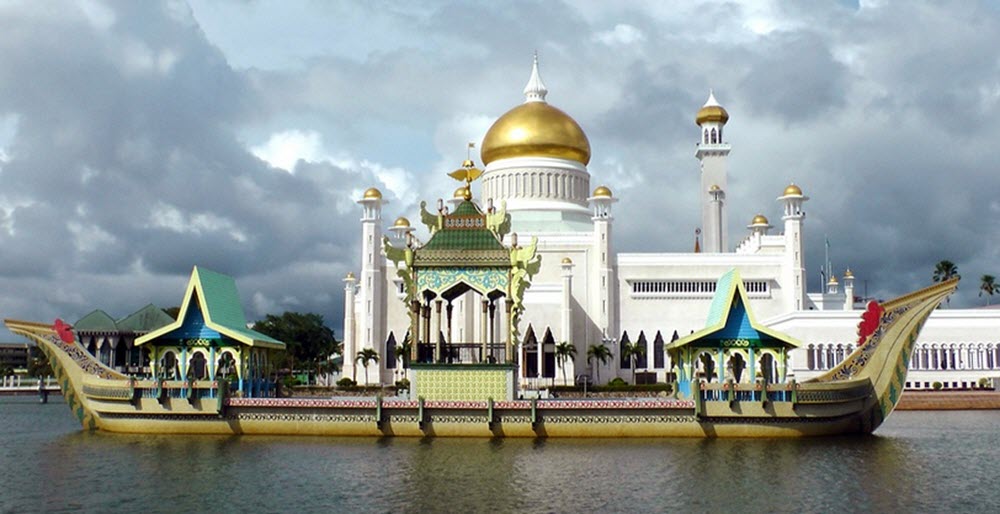 Brunei consists of a coastal plain that rises to mountains (in the east) and some hilly lowlands (in the west). The highest point is Bukit Pagan, at 1850 meters above sea level.
Brunei became a British protectorate in the 1800s and gained its independence from the United Kingdom in 1984. Economic growth transformed the newly independent monarchy into an industrialised country with a high GDP and a high PPP, chiefly due to the export of petroleum products.
Brunei is a unitary absolute monarchy, in the tradition of the Malay Islamic Monarchy. The legal system is based in English common law, but Shariah law supersedes in some situations. There is a parliament, but there has not been any election since 1962.
The majority religion is Sunni Islam, and nearly 80% of the population belongs to this faith. Islam is the state religion of Brunei, but other religions are allowed, albeit with some fairly strict limitations. Roughly 9% of the population are Christians and approximately 8% are Buddhists. Among the smaller minority religions we find various indigenous believes.
Climate
The climate of Brunei is tropical. It is more affected by the Intertropical Convergence Zone than by the trade winds, and it is not prone to cyclones.
Sometimes polluted air drifts in over Brunei from nearby Indonesia, where massive illegal forest burning is causing serious air pollution.
Examples of attractions
Here are a few examples of interesting spots to visit in Brunei. The list is by no means exhaustive.
Bandar Seri Begawan, the capital city.
One popular destination for comparatively high-end shoppers in Brunei is Serusop, a mall complex just 5 minutes from the Brunei International Airport in the capital city.
The bustling market next to the Mall Gadong in the capital is excellent for buying cheaper things, such as souvenir t-shirts.
Muara is the main port of Brunei, and this is where you'll find passenger ferries to Labuan and Sarawak.
The district of Tutong features an abundance of well-preserved tropical forest and the lake Tasek Merimbun.
Beaches such as Pantai Tungku, Pantai Muara, and Pantai Serasa.
Kampong Ayer, the "Venice of the East".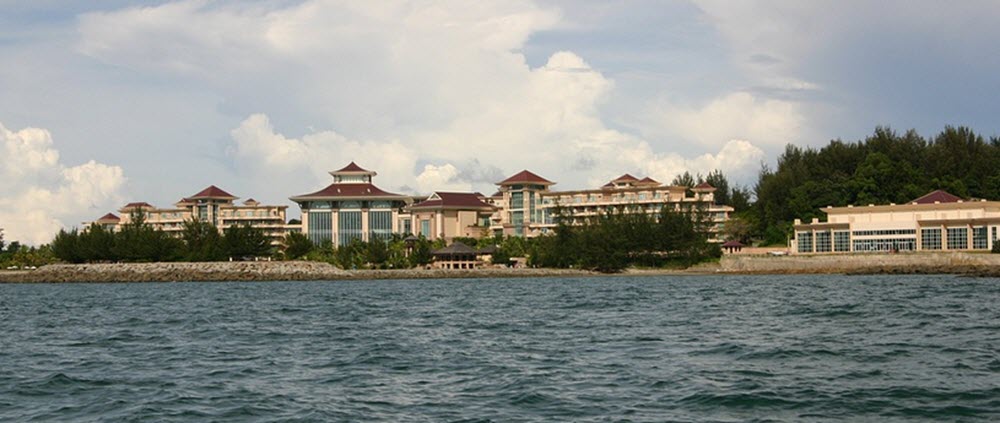 Short facts about Brunei
Here are some basic facts about Brunei that might come in handy as you plan you visit.
Area: 5,765 square kilometres
Population: Almost 412,000 (2014 estimate)
Capital: Bandar Seri Begawan
Most populous city: Bandar Seri Begawan
Official language: Malay (but both English and Malay are used for official documents)
Currency: Brunei dollar (BND)
Time zone: UTC +8
Driving side: LEFT
Electricity: 240V, 50Hz, UK plug
Calling code: +673
ISO 3166 code: BN
Internet top domain: .bn